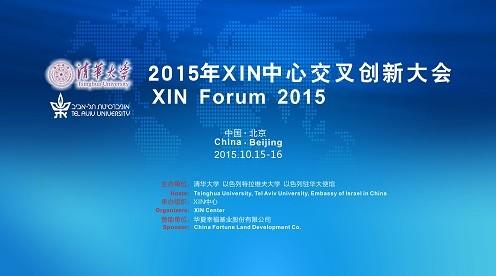 Location: Tsinghua,Beijing , Oct 15th - Oct 16th,2015
Exchange among Scholars, Entrepreneurs, Investors, Government Officials and Industry Leaders from China, Israel, and the world.
Hosts:
Tsinghua University, Tel Aviv University, Embassy of Israel in China
Co-Organizer
China Fortune Land Development Co. (CFLD)
Innovation is the fundamental revelation of a nation's competitiveness, the driving force of social advancement as well as the guarantee of long-term development of any organization. Witnessed by Ms. LIU Yandong, the vice Prime Minister of China, XIN Center was founded in Israel on May 20, 2014. The goal is to take advantage of University scientific research capabilities and leadership position in education to build a transnational interdisciplinary innovation platform.
XIN has four major goals: become a platform for international exchange of innovative science and technologies; become a platform for transformation of cutting-edge technology into marketable application; become a platform for the education and nurturing of science and technology talents,become a cooperation platform of scientific research interdisciplinary and globally.
Making the best of channel advantages of the two countries, XIN Center aspires to recruit excellent students and young scholars from the globe for entrepreneurship training; brings top venture capital institutions together; establishes a stable exchange channel and presents promising projects chosen on a regular basis, thus providing guidance and support for fund-raising and technology transfer. XIN Center is also seeking strategic partnership across the world for capital, resources and expertise. In return, XIN Center will provide their partners with pioneering innovative projects from the two countries and well-connected network, including entrepreneurs, leading academic, talents in relevant fields as well as top VC, PE and industrial companies.
XIN Center will host the second innovation forum on Oct. 15-16. Scholars, entrepreneurs, investment funds, government officials as well as leading figures from industry will attend this forum for in-depth technological exchanges and innovation discussion.
Day 1,Thursday∣15.10.2015
XIN Center Projects Review
Place: Reception Hall, 3rd Floor of Main Building, Tsinghua University

There are total of 6 projects founded by XIN Center in 2014 from Tsinghua University (THU) and Tel Aviv University (TAU), their progress and achievements will be reported:
·Prof. Ting Zhu (THU) and Prof. Yuval Ebenstein (TAU): Disease-targeted genome sequencing.
·Dr. Ksawery Kalinowski (TAU): Real-time nano-profilometry and nondestructive tests during lithography/fabrication
·Teng Li, Hongyu Zhao, and Prof. Guoqiang Chen(THU): Seawater based biotechnology for low-cost production of bioplastics
·Prof. Alexander Gerber (TAU): Distributed high spatial resolution and sensitivity current sensor
·Shoumo Zhang, Prof. Quanshui Zheng(THU), and Michael Urbakh(TAU): Superlubricity hard disk drive
·Dr. Shahar Zirkin (TAU): 5-hydroxymethylcytosine as an epigenetic biomarkers for cancer diagnostics and prognosis

There are total of eight proposal selected from Tsinghua University (THU) and Tel Aviv University (TAU). After each presentation, invited reviewers will ask questions and evaluate the projects.
Projects list:
Prof. Yossi Rosenwaks (TAU), CMOS-based gas sensor for cellular applications
Mr. Yunchuang Dai, Dr. Ziyan Jiang, and Prof. Yi Jiang (THU): Decentralized intelligent building platform.
Prof. Danny Segal (TAU) and Prof. Yanmei Li (THU), Novel small molecules for inhibiting the nano-assembly of a-synuclein amyloids in Parkinson's disease.
Dr. Nan Su and Prof. Xinhui Xing (THU): Recombinant heparinase, chondroitinase and their application.
Prof. Shachar Richter (TAU), Jellyfish composites for personal hygiene and advanced wound-dressing applications
Dr. Song Zhang, Prof. Hui Zhang, and Kaiwen Hu: Material Design and Functional Procelain Production from Jingdezhen Procelain Based on Micro-Environment Control and Revised Data-Driven Process-Map Optimization Method.
Prof. Amir Boag and Prof. Jacob Scheuer (TAU), Flat and ultrathin optical components using dielectric metasurfaces
Mr. Sen Lin, Prof. Diannan Lu, and Prof. Zheng Liu (THU): Integrated Bioremediation Technology (IBT) for contaminated soil

Place: VIP Rooms, 2nd Floor, Unis Plaza
XIN Open Forum
Place: Reception Room, 3rd Floor of Main Building, Tsinghua University
Host: Prof. Bin Yang, Vice President of Tsinghua Univ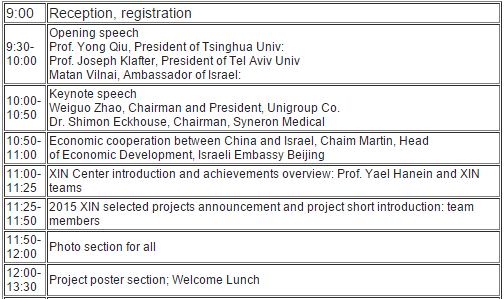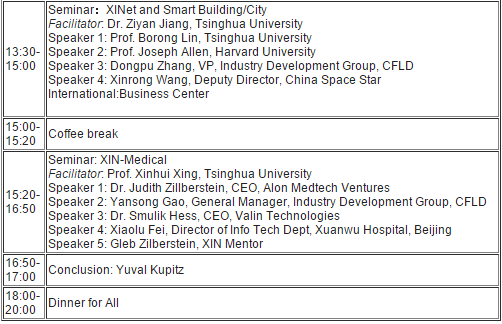 Place: Ballroom, 2nd Floor, Unis Plaza
Bio of Forum Speakers and Project Reviewers
Allen, Joseph (Speaker)
Assistant Professor, Harvard University
Dr. Joseph G. Allen joined the Harvard faculty in 2014 as Assistant Professor of Exposure Assessment Sciences in the Department of Environmental Health at the Harvard T.H. Chan School of Public Health. He researches community and occupational exposures and health risks related to a broad range of chemical, biological, physical and radiological stressors. In particular, he focuses on the built environment, emissions from building materials and consumer products, and building system performance. He has led exposure and health investigations in several hundred buildings across a diverse range of industries, including health care, biotechnology, education (primary schools and higher education), commercial office real estate and manufacturing. Dr. Allen directs the Healthy Buildings program at the Harvard Center for Health and the Global Environment. He also started a research group, Harvard Sensors for Health, to take advantage of the new tools that are available that can help us optimize exposure and health assessments in public health research. He earned his Doctor of Science (DSc) and Master of Public Health (MPH) degrees from the Boston University School of Public Health, and a Bachelor of Science (BS) degree in Biology from Boston College.
Diehl, Sandy (Reviewer)
CEO and Founder
SD Global Advisors, LLC
Mr. Diehl started SD Global Advisors in early 2012, following a 25-year career with United Technologies (NYSE: UTX) and its Otis Elevator business unit.
During his career at UTC and Otis, Mr. Diehl held several senior level executive positions. Prior to leaving UTC, he was the VP of UTC's Integrated Building Systems, an innovative initiative leading the collaboration of UTC's independent commercial business units (Otis, Carrier, UTC Fire and Security, and UTC Power) to serve major global projects and customers. In his last assignment at Otis Elevator, Mr. Diehl was Senior Vice President for Strategy and Development. In this assignment he was responsible for Otis' global marketing, business development, product management and communication functions. Mr. Diehl was an integral part of the Otis expansion in the China, India, and Middle Eastern markets, from 1997-2012. During his Otis career, Mr. Diehl held both line P&L management positions, as well as other senior level strategy and product development roles.
He holds a bachelor's degree in mechanical engineering from Cornell University, and an MBA from Harvard Business School.
Mr. Diehl currently serves as Chairman of the Board of Regents of the American Architectural Foundation in Washington DC.
Eckhouse, Shimon (Keynote Speaker)
Chairman, Syneron Medical and Alon Medtech Ventures
Dr. Shimon Eckhouse is an inventor and active entrepreneur and investor in the field of medical devices and medical technology. Dr. Eckhouse is currently the Chairman of the Board of Syneron Medical Ltd. (Nasdaq ELOS) which he co-founded in 2001 and took public on Nasdaq in 2004 and through a secondary offering in Nasdaq in 2005. Syneron reached a valuation of more than $1B and returned to its investors more than X50 on their investment. Dr. Eckhouse was also the founder, chairman and CEO of ESC Medical Systems from its inception in 1992 until 1999. He took the company public on Nasdaq in January of 1996 and raised more than $250M in 3 public offerings, the company reached a valuation of more than $1B returning to its investors more than X100 on their original investment in the company. Dr. Eckhouse is also the chairman of more than 20 companies in medical field.
Dr. Eckhouse is the founder and Chairman of Alon Medtech accelerator in Israel which invests in early stage start-ups and is part of the Israeli Chief Scientist incubator program (unique medical incubator in this program).
Dr. Eckhouse holds a B.Sc. in physics from the Technion Israeli Institute of Technology and a Ph.D. in physics from the University of California at Irvine. He has more than 100 registered patents and published more than 50 papers in leading refereed journals and conferences. He is also a member of the Board of Directors of the Technion Israeli Institute of Technology.
Fei, Xiaolu (Speaker)
Director, IT Dept, Xuanwu Hopital, Beijing
Dr. Fei obtained BS and MS degrees from Tsinghua University majored in Biomedical engineering, and Doctor degree in medical imaging and nuclear medicine from Capital Medical University.
Dr. Fei worked at the Microsoft Global Technical Engineering Center for two years. In 2004, she started working at the Medical Engineering department of Xuanwu hospital, and now serves as the director of Information Technology department at Xuanwu Hospital. Dr. Fei has been committed to the research of clinical engineering, especially for medical imaging quality control and risk evaluation of CE-IT integration, has developed several medical equipment related software plug-ins and automatic image processing algorithms independently or cooperatively. She successively presided over a number of hospital information system in design, implementation and management, upgrade, and the follow-up work, with a deep understanding of hospital information system and accumulating comprehensive and rich operating experience.
Dr. Fei has published nearly 20 journal papers, and completed a series of national research projects. She was selected to join the New Star Program organized by Beijing municipal science and technology Committee and Outstanding Core Personnel Training Program organized by Beijing Healthcare Bureau in recent years.
Xuanwu Hospital was founded in 1958 as a large comprehensive hospital with characteristics on neuroscience and gerontology. There are about 1,147 beds and over 2 million of outpatients annually. It is the first hospital with EMRAM Stage 6 Award in Beijing Municipal Administration of Hospitals system, demonstrating outstanding levels of IT implementation ensuring superior healthcare services and much increased patient safety.
Eran Fine is an experienced entrepreneur and co-founder of several startup companies with over 18 years of international experience in building and leading companies, business development and marketing in the high-tech industry. Strong Asian and US experience with proven cross - culture capabilities. With proven track record as a founder of companies and leader of new businesses including fund-raising, building and motivating teams to bring new products and services to market, Eran Co-founded and led Oree Ltd, an advanced LED company, developing the first Planar LED in the world. Eran also co-founded and led JoinTV, MobileSpear Inc. and On - EDEN (sold to Formula Group). Additionally, Eran is the inventor of 12 international patents.
Gao, Yansong (Speaker)
General Manager, Consumer Good Industry of CFLD
At CFLD, in charge of medical health products, skin care products, organic food and other consumer goods industries.
Hess, Shmulik (Speaker)
CEO, Valin Technologies
Dr. Shmulik Hess is the CEO of Valin Technologies and a Board member of Vanir Pte Ltd. Valin technologies is a biotechnology company involved in the development of Biosimilars and innovative biologics as well as technology transfer, cGMP manufacturing and co-development of innovative therapeutics. Dr. Hess received his PhD in Pharmacology from the Hebrew University, and was a research fellow at Harvard-MIT. Prior to joining Valin Technologies Dr. Hess was CEO and co-founder of Active P, a startup involved in the development of oral available peptidic drugs. Dr. Hess has gained experience with biologics development and scale-up as well as peptide PK PD and tissue engineering. Dr. Hess has gained several Publications in scientific journals and patents.
Jiang, Ziyan (Speaker)
Building Energy Efficiency Research Center, Tsinghua University
Dr. Ziyan Jiang is in charge of intelligent building R&D team in Building Energy Research Center, Tsinghua University. His research work involves in many aspects of smart building: system, communication network, algorithm, smart hardware, integration and software, etc.
Dr. Jiang was graduated from Department of Building Science and Technology, Tsinghua University. During the past 10 years research work, he attended in series of research projects supported by National major science and technology support program, or Beijing science and technology support program; he was also the writer or chapter writer of several lessons books, industry reports or codes, such as Building Equipment Automation System, Research on Nantong's Smart Building Industry Development Strategy, Intelligent City Development Strategy in China, Technical Code for Engineering of Building Automation System. Dr. Jiang had published about 20 articles and more than 20 patents in smart building domain.
In 2010, Dr. Jiang designed a new system structure for smart building, together with Prof. Yi Jiang, who is academician of Chinese academy of engineering. According to their understanding of the industry, they believe that smart building system should be flat and decentralized, totally different from today's system. Based on this concept, Dr. Jiang has developed a new decentralized, parallel computing supported operating system. Now, he focuses on bringing new technology to the industry.
Peng, Pei-Yuan (Reviewer)
General manager, vice president, LG Electronics China R&D Center
Dr. Pei-Yuan Peng is in charge of LG's new businesses and technologies development in China. In particular, he is focusing on developing electrical vehicle powertrain, industrial waste water treatment, and smart home.
Before LG, Dr. Peng was the director for UTC's China R&D serving for building segment with UTC's divisions, Otis, Carrier, and Fire & Security to pursue energy saving, comfort, and safety for end users.
Originally came from Taiwan, Dr. Peng has a Ph.D. degrees from Brooklyn Polytechnic (NYU), and MS in management in RPI (Rensselaer Polytechnic Institute). Dr. Peng also holds 25 US patents.
Sun, Xulin (Reviewer)
Air Liquide
Senior Manager, R&D CHINA
Dr. Sun got her BS from Beijing Institute of Aeronautics and Astronautics in 1985, MS from Ibaraki University in 1989, PhD in The university of Tokyo in 1992, majored in Material Engineering. She joined Air Liquide R&D in Japan in 1996 after working as a researcher at the Industries and National Research Institutes in Japan. She worked in the Headquarter in Air Liquide CHINA since Sept 2009. She is now Group Innovation Senior Manger for Asia, to bring technology into market since Feb 2014.
Wang, Xinrong (Speaker)
Deputy Director, China Space Star International :Business Center
Mainly responsible for large-scale integrated satellite and ground system demonstration, satellite application system design, and smart city system design. Has led the design and construction work in Bolivia, Laos and Belarus and many other international application systems.
Xing, Xinhui (Speaker)
Professor, Tsinghua University
Professor XING Xin-Hui received his B.S. (Chemistry) from South China University of Technology in 1985, M.S. (Applied Chemistry) from Ustsunomiya University (Japan) in 1989 and Ph.D. (Chem Eng) from the Tokyo Institute of Technology (Japan) in 1992. He had been Assistant Professor at the Department of Bioscience and Biotechnology, Tokyo Institute of Technology, Japan from 1992 to 1998, and Lecturer and Associate Professor at Department of Material Science and Chemical Engineering, Yokohama National University, Japan from 1998 to 2001. He was selected as a full professor by the 100-Telent Scholar Program of Tsinghua University in 2000 and joined department of Chemical Engineering since then. Professor XING was appointed as the director of Institute of Biochemical Engineering in 2002. Currently he is the vice chairman of the department. He is the editorial board of Biotechnology and Business of China, Journal of Food Sciences of China and Journal of Food Science and Biotechnology. He serves as the associate editor of Biochemical Engineering Journal, editorial board of Journal of Molecular Catalysis B: Enzymatic, Journal of Biological Engineering, Enzymatic and Microbial Technology, Journal of Biotechnology, Journal of Bioscience and Bioengineering, Food Science and Human Wellness and Industrial Biotechnology.
Prof. Xing's research interest covers biochemical engineering, microbial evolution technology and pathway engineering,enzyme engineering, environmental biotechnology, and bioenergy.
Zhang, Dongpu (Speaker)
VP, Industry Developmentof CFLD
Graduated from the National Defense University Information Systems Engineering. 20 years of aerospace defense industry and civilian integration practitioners and management experience. Vice Chairman of Chinese Smart City Industry Innovation Technology Alliance, vice chairman of Beijing Automotive Industry Association, executive vice chairman of the Chinese Beidou technical and economic innovation and strategic alliances, committee member of the central enterprises electric car alliance.
Zhao, Weiguo (Keynote Speaker)
Chairman and President, Unigroup Co., Tsinghua Holding
Mr. Weiguo Zhao, a graduate from Tsinghua University, is currently the chairman and president of Tsinghua Unigroup Co. Unigroup Co. is a large-scale enterprise, 51% owned by Tsinghua Holdings. Weiguo Zhao was cited as National Software Leaders TOP10 in 2004, and was Chinese Information Industry Annual Leader TOP10 in 2014.
In recent years, Mr. Zhao has led Unigroup to accomplish a series of M&A activities. The acquisition of Spreadtrum Communications and RDA Microelectronics has made Unigroup become the leading chip enterprise in China. In 2013,he was in charge of the deal that Unigroup acquired Spreadtrum Communications (NASDAQ) at 1.78 billion US dollars. Spreadtrum Communications is a fabless semiconductor company developing mobile chipset platforms for smartphones, feature phones and other consumer electronics products. In 2014, Unigroup acquired RDA Microelectronics at 907 Million US dollars. RDA Microelectronics is a fabless semiconductor company that designs and develops wireless systems-on-chip and radio-frequency (RF) semiconductors.
In May 2015, Unigroup acquired 51% shares of H3C Technologies Co, one unit in Hewlett-Packard. Co, with more than 2.5 Billion US dollars. In September 2015, Unisplendour Corporation Limited purchases $ 3.775 Billion of newly issued Western Digital Common Stock and becomes the largest shareholder of Western Digital Corporate under his leadership. Western Digital Corp. (NASDAQ: WDC), Irvine, Calif., is an industry-leading developer and manufacturer of storage solutions that enable people to create, manage, experience and preserve digital content.
Recently, Tsinghua Unigroup cooperates with Intel in semiconductor business section and Intel invested the program up to RMB 9 Billion under Mr. Zhao's leadership.
Mr. Zhao also shows great enthusiasm in public welfare and donated more than RMB 2.6 Billion to Tsinghua University, Tianjin University, Nankai University, Xin Jiang, and Hebei Province, etc.
Zhu, Jiang (Jeffrey) Speaker
Dean, Industry Research Institute of CFLD
Mr. Zhu, , a graduate from Tsinghua University, is currently the dean of industry research institute at CFLD. He is leading strategy planning, industry analysis, business innovation model design, strategic partner development in the company, which majorly cover 12 strategic industries like aerospace, aviation, automotive, high-end equipment manufacturing, electronic information, eCommerce, Biomedical, culture and creative, consumer goods, energy-saving and environmental protection, new-generation material, production services and incubator.
During 1998-2013, he served as the strategy partner and other management positions within IBM, Accenture, PWC and HP. He owns plentiful experience in the areas of smarter city, eCommerce, business model, process, CRM, SCM, etc.
Zilberstein, Gleb (Reviewer)
Gleb Zilberstein is a start-up founder with 28 years experience start businesses in multinational environment. He is the co-founder and CEO of S4G(Service for Generator), which is focusing on high-tech generator, marketing
exploration, sales, and acquisition. He has co-founded 14 companies in different countries (China, Israel, US, UK, European countries, Russia, etc) including Spectrophon, Proteologics, Cellect, Protein Forest, Perfaction Technologies, Oplon, etc, five of which have gone to IPO or been acquired by international corporations. Recently, his co-founded company ProteinSimple has been acquired by Bio-Techne at $300 million in cash. Spectrum of interests: multidisciplinary technologies for quick growth markets.
Zilberstein, Judith (Speaker)
CEO,Alon Medtech Ventures
Dr. Judith Zilberstein, is the CEO of Alon Medtech accelerator in Israel which invests in early stage start-ups and is part of the Israeli Chief Scientist incubator program (unique medical incubator in this program).
Judith has more than 20 years of experience in the medical device industry as an inventor and an entrepreneur. Vast experience in investments in the Healthcare and nanotech fields.
Prior to Alon MedTech, she managed Maayan Ventures, an early-stage investment fund where she built a portfolio of 30 startup companies and was actively involved in guiding their development as an active director/chairperson. Dr. Zilberstein has a diverse academic background with a BSc in Chemistry, an MSc in Chemistry & Physics and a PhD in Life Sciences, all from the Weizmann Institute of Science.