Tsinghua Campus,Beijing , Oct 23-25, 2014
Exchange among Scholars, Entrepreneurs, Investors, Government Officials and Industry Leaders from China, Israel, and the world.
Hosts:
Tsinghua University, Tel Aviv University, Embassy of Israel in China
Organizers:
XIN Center, Tsinghua EMBA Program, Tsinghua x-lab, Tsinghua XuetangX
Preface
Innovation is the fundamental revelation of a nation's competitiveness, the driving force of social advancement as well as the guarantee of long-term development of a company. With the rapid progress of science and technology and emerging innovative enterprises, the world has entered an era of innovation-driven development. Under this trend, such questions as how to ensure successful transnational exchanges of innovative science and technology, how to promote the transfer of innovative technology into market as well as how to push forward the education and cultivation of innovative talents have become a major challenge facing the world. Following this trend, XIN center has been set up.
Witnessed by Liu Yandong, the vice premier of China, Tsinghua University and Tel Aviv University signed the cooperation agreement for co-founding the XIN Center. The two universities approve to take advantage of their scientific research capabilities and leadership position in education in their respective countries so as to build a transnational interdisciplinary innovation platform. As president of Tsinghua University Chen Jining puts it: XIN is to explore a new mode of innovation. As an innovation center co-founded by China and Israel, XIN has 3 major goals: to become a platform for national exchange of innovative science and technology in both China and Israel, to become a platform for transformation of cutting-edge technology into marketable application, to become a platform for the education and nurturing of science and technology talents. XIN Center will establish a long-lasting communication mechanism for innovation projects, interact online with participants through websites, micro blog, wechat group etc and carry out a variety of offline activities through holding monthly Workshop and biannual XIN Forum.
Making the best of channel advantages of Tsinghua and Tel Aviv University, XIN Center aspires to recruit excellent students and young scholars from the globe for entrepreneurship training. In the mean time, the two universities also plan to engage in a number of pioneering innovative programs. Experts in the relevant fields from the two universities will evaluate the technology maturity of the programs and industry mentors hired by the two universities will analyze the market application prospect of them. XIN Center will bring together top venture capital institutions from the two countries, establish a stable exchange channel and present promising projects chosen on a regular basis, thus providing guidance and support for fund-raising and technology transfer.
At the moment, project selection, selection of XIN fellows and XIN student fellows, recruitment of XIN mentors, preparation for winter camp as well as the design of XIN Space are under way in XIN Center. XIN Center is also seeking strategic partnership across the world for capital, resources and expertise. In return, XIN Center will provide its partners with pioneering innovative projects from the two countries and well-connected network, including entrepreneurs, leading academic, talents in relevant fields as well as top VC, PE and industrial companies.
XIN Center will host the autumn forum on Oct. 23-25th, attached is the agenda of the forum. It is a forum for science and technology innovation of China and Israel at the national level. Scholars, entrepreneurs, investment funds, government officials as well as leading figures from industry will attend this forum for in-depth technological exchanges and innovation discussion. This event is co-sponsored byXIN Center, EMBA Program, x-lab and Xuetang X of Tsinghua University.
Day 1,Thursday∣23.10.2014
XIN Center Academic Exchange

(Tel Aviv: about 25 professors, graduate students, and entrepreneurs; Tsinghua: about 30 persons)
Day 2,Friday∣24.10.2014
Day 2,Friday∣24.10.2014
XIN Center Project Reviews
5 projects each from Tsinghua University and Tel Aviv University, each presentation shall be 10 minutes. After each presentation, Entrepreneurs and Investors will evaluate the projects. (Tsinghua University source of project are university-wide call for projects, department/school recommendations, and x-lab Projects). The selected projects will be awarded with need funds from $100K to $1 million depending on the projects' stages and scales. There will be at least two XIN mentors (experienced technical advisors and entrepreneurs) allocated to each awarded project.
Day 3,Saturday∣25.10.2014
XIN Open Forum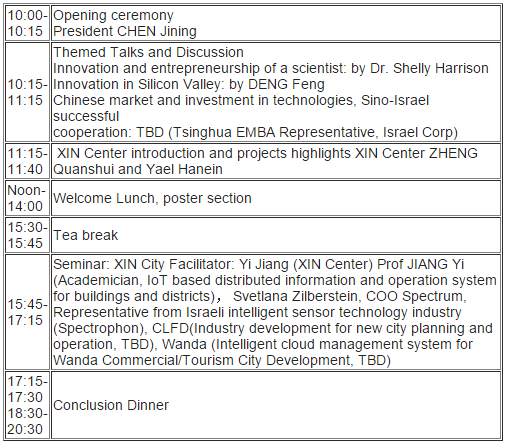 List of Some Participants
Shelly Harrison: Member of XIN Science and Technology Board
Shelley was the chairman and co-founder of Harrison Enterprises, a high-tech investment and management consulting firm. He was previously the co-founder, first chairman and CEO of Symbol Technologies (later acquired by Motorola) and was the chairman and CEO of Spacehab Inc. He was also the managing general partner and co-founder of PolyVentures' venture capital funds.
Shelley has invested in over forty companies including: Sohu.com; Safenet Inc.; N2K/Music Blvd (acquired by Bertelsmann); Opal (acquired by Applied Materials); Jetfax; DSP Group; DSP Communications (acquired by Intel); EIS; Globecomm; and Novell.
Shelley began his career as a member of the technical staff at AT&T Bell Labs and as a professor of electrical sciences at SUNY Stony Brook. He holds a B.S. in electrical engineering from New York University, and M.S. and Ph.D. degrees in electrophysics from Polytechnic University.
Feng Deng: Member of XIN Science and Technology Board
Feng co-founded NLVC in 2005. Prior to NLVC, he served as the vice president of corporate strategy at Juniper Networks. He was previously a co-founder of NetScreen Technologies, which went public on NASDAQ and was later acquired by Juniper Networks in 2004 for US$ 4.2 billion. Feng is recipient of Ernst & Young Entrepreneur of the Year (2002) and CRN Innovator of the Year (2003) awards. He has extensive technical and managerial experiences in computer, communication and data networking industries. Feng holds BS and MS degrees in electrical engineering from Tsinghua University, a MS degree in computer engineering from the University of Southern California, and a MBA degree from the Wharton School, University of Pennsylvania. He also holds numerous U.S. patents in computer system architecture and IC design.
Feng serves on the Board of Directors of the Tsinghua University Foundation, and the member of Asia Council of the Wharton School etc.
Efi Cohen-Arazi
Mr. Cohen-Arazi is the founder and CEO of Rainbow Medical. Mr. Cohen-Arazi has over 20 years of experience in the medical and biotech industries involving executive management responsibility for both development and business. Prior to establishing Rainbow Medical, Mr. Cohen-Arazi served as CEO of IntecPharma, Israel, a company specializing in drug development and delivery. Previously, Mr. Cohen-Arazi was V.P. Corporate Manufacturing, Head of Contract Manufacturing and Site Head at U.S.-based Amgen Corporation, where he established and led several global strategic partnerships to develop and manufacture small molecules and biopharmaceuticals. Mr. Cohen-Arazi held senior positions at Immunex in the U.S. and at the Merck-Serono Group in Switzerland. Mr. Cohen-Arazi holds advanced degrees in Agriculture and Microbiology from the Hebrew University of Jerusalem.
Eran Fine
Eran Fine is an experienced entrepreneur and co-founder of several startup companies with over 18 years of international experience in building and leading companies, business development and marketing in the high-tech industry. Strong Asian and US experience with proven cross - culture capabilities. With proven track record as a founder of companies and leader of new businesses including fund-raising, building and motivating teams to bring new products and services to market, Eran Co-founded and led Oree Ltd, an advanced LED company, developing the first Planar LED in the world. Eran also co-founded and led JoinTV, MobileSpear Inc. and On - EDEN (sold to Formula Group). Additionally, Eran is the inventor of 12 international patents.
Gleb Zilberstein
Gleb Zilberstein is an experienced start-up founder. He is the co-founder and CEO of S4G (Service for Generator), which is focusing on high-tech generator, marketing exploration, sales, and acquisition. He has co-founded 10 companies, including Proteologics, Cellect, Protein Forest, Perfaction Technologies, etc, five of which have gone to IPO or been acquired by international corporations. Recently, his co-founded company Protein Simple has been acquired by Bio-Techne at $300 million in cash.
Ophir Gore: Counsellor – Economic and Commercial Affairs
Embassy of Israel in Beijing, China
Ophir is the Counsellor for Economic and Commercial Affairs at the Embassy of Israel in Beijing, China, since August 2014.
During the years 2012-2014 he served as the Director of the Renewable Energy & Alternative Fuels Department at Israel NewTech – The Israeli National Energy & Water Program, Ministry of Economy.
Until 2012, Ophir served for 4 years as the Israeli commercial attaché to Taiwan.
Ophir had also served in the Middle East & North Africa Department, Foreign Trade Administration, and as the assistant to the Director of the Foreign Trade Administration, at the Ministry of Economy.
Prior to that, Ophir also served as an Attorney in the Legal Department for Special Cases at the Tax Authority, Ministry of Finance.
He is a Member of the Israeli Bar and is a Graduate of Tel-Aviv University, Faculty of Law, (LL.B, LL.M).
Svetlana Zilberstein: Chief Operational Officer of Spectrophon Ltd.
She holds a M.A. in Economics ( Hebrew University).
Basic interests: sport, outdoor activity, classic music, theatre, opera, ballet.
Founded in 2012, Israeli startup company Spectrophon specializes in developing small unique sensors for chemical substances in liquid, gas or microorganism.
Core technologies: processing technology of coating materials, image processing algorithms, database of the components.