Tel Aviv University (TAU), Israel's leading university, in collaboration with Tsinghua, China's leading university, and Morningside from Hong Kong jointly held the first annual CHINA-ISRAEL INNOVATION FORUM (CIIF) in Beijing on September 1-2, 2016. The invitation-only forum brought together influential individuals from academia, government, and industry – both from China and Israel – to explore the latest in technological developments and university-driven innovations.
"The CHINA-ISRAEL INNOVATION FORUM reflects the mission of leading universities like Tel Aviv and Tsinghua to be global forces for higher education and technological advancement," said Prof. Joseph Klafter, TAU President. Klafter co-chaired the event along with Prof. Yong Qiu, President of Tsinghua University, and Mr. Ronnie C. Chan, Co-founder of Morningside and Chairman of Hang Lung Properties.
The union of Israeli and Chinese academia, government, and industry promised by the FORUM is unprecedented. "This FORUM is literally about improving the world," continued Klafter. "Through the power of partnership and collaboration we can take life-changing innovations from the lab to the marketplace and bring university discoveries to the general public."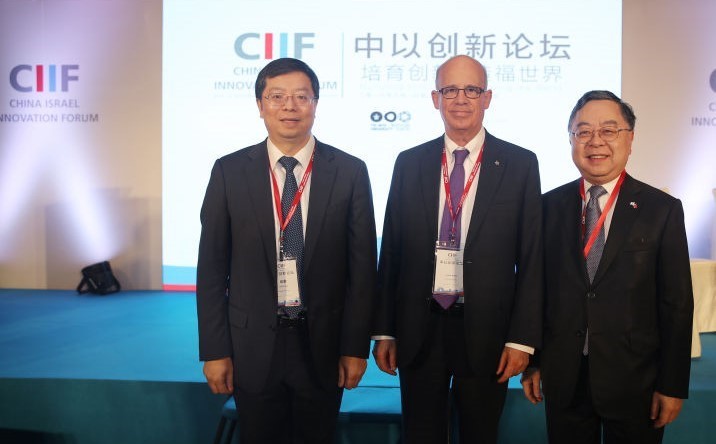 "After years of fruitful collaboration with Tel Aviv University, the FORUM takes our partnership to a higher level," said Tsinghua University President Prof. Yong QIU. "Tsinghua has always endeavored to cultivate innovative talent capable of tackling global challenges. By bringing together the leaders of China and Israel's private, public, and academic sectors in the same place for the first time ever, this FORUM helped turn promise into possibility and ideas into reality."
"What we have here are two of the world's oldest civilizations coming together to transform the world through innovation," said FORUM co-chair Mr. Ronnie C. Chan, one of China's most influential businessmen and a longtime friend of Israel and Tel Aviv University, from which he received an honorary doctorate in 2014. "This platform offered an opportunity to harness the power of China's relationship with Israel to enrich humanity as a whole," according to Chan.
The keynote address was delivered by Ambassador Dan Gillerman, former Permanent Representative of Israel to the United Nations. Matan Vilnai, Ambassador of Israel to China, offered opening remarks. The participation of these and other high-level diplomats and government officials reflects the esteem in which both countries hold this unparalleled gathering of leaders and power players.
The forum offered think-tank analyses of issues including globalization, cyber security, and the Internet of Things. Moderators included: Danny Yamin, VP of Microsoft Enterprise Strategy in China; Major General (Ret.) Professor Isaac Ben-Israel, Director of TAU's Blavatnik Interdisciplinary Cyber Research Center; and Dr. Yehoshua Gleitman, former Chief Scientist of Israel and Honorary Consul General of Singapore in Israel.
The forum will be held annually, alternating between Israel and China, and providing a unique platform to enhance academic cooperation while strengthening economic and diplomatic ties. It continues TAU's extensive activities in China which include joint academic programs, faculty transfer, and research with 30 of the country's most prominent universities.