On April 29th, 2017, the Asian Universities Alliance founding ceremony and the inaugural Summit were held in the main building of Tsinghua University. Vice Premier of the State Council Liu Yandong attended the Conference and delivered a keynote speech. Before the start of the Summit, Liu Yandong visited the Asian University Alliance Exhibition of International Education Achievements at Tsinghua University. Due to the outstanding achievements of the XIN Center in training innovators and promoting scholarly exchange since its establishment, XIN's contribution was highly praised in the exhibition.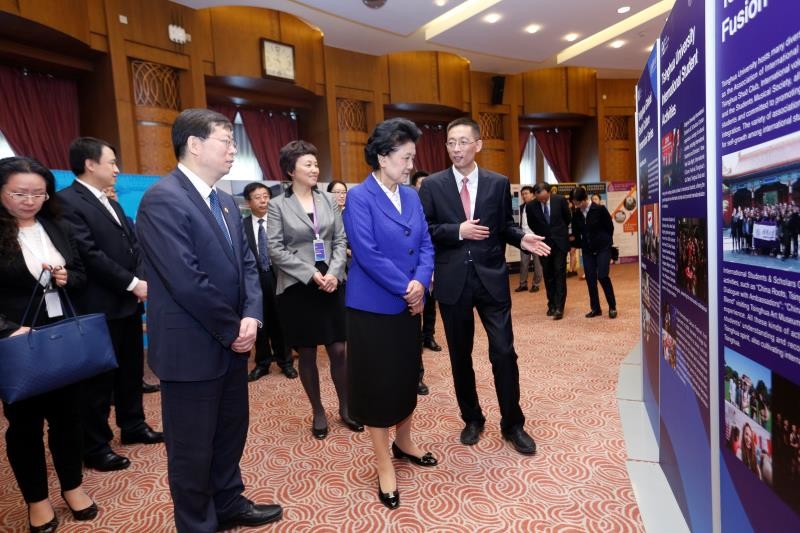 Liu Yandong visited the exhibition, accompanied by President Qiu Yong and Vice President Shi Yigong
On May 20th, 2014, under the witness of Vice Premier Liu Yandong, Tsinghua University and Tel Aviv University jointly established the XIN Center. The XIN Center of Tsinghua University, as the Secretariat of the China-Israel 7+7 Research University Alliance in China, has become the symbol of China-Israel educational cooperation and held the Inaugural Forum of President of China-Israel Higher Education Institutions. XIN offers an immersive environment to help to give our students an international outlook and improve their scientific and cultural understanding and generate new scientific research. The XIN Center has supported hundreds of teachers and students of Tsinghua University to visit Israel to participate in Summer School and Winter School. In 2016, the National Natural Science Foundation of China and the Israel Science Foundation jointly called for cooperation research projects in life sciences and medicine. The two projects that were selected both receive support from the XIN Center.
The XIN Center seeks to have young innovators learn by doing to create a new generation of innovation talent. XIN projects have made significant progress: The BluePHA team won the gold medal at the second President Cup Innovation Challenge of Tsinghua University; two XIN projects were displayed at the 3rd Meeting of the China-Israel Joint Committee on Innovation Cooperation, attracting the attention of Vice Primer Liu Yandong, and Israeli Prime Minister Benjamin Netanyahu.