On the afternoon of March 21st,2017,President of the Israel Institute of Technology, Prof. Peretz Lavie, President of Bar-Ilan University, Prof. Daniel Hershkowitz, Vice President of Ben-Gurion University of the Negev,and Prof. Steven Rosen visited Tsinghua University. The Vice-President of Tsinghua University, Prof. Shi Yigong welcomed the guests. Topics of discussion included higher education cooperation, innovation and talent training, among others
President Peretz Lavie, President Daniel Hershkowitz, Vice-President Shi Yigong and Vice-President Steven Ro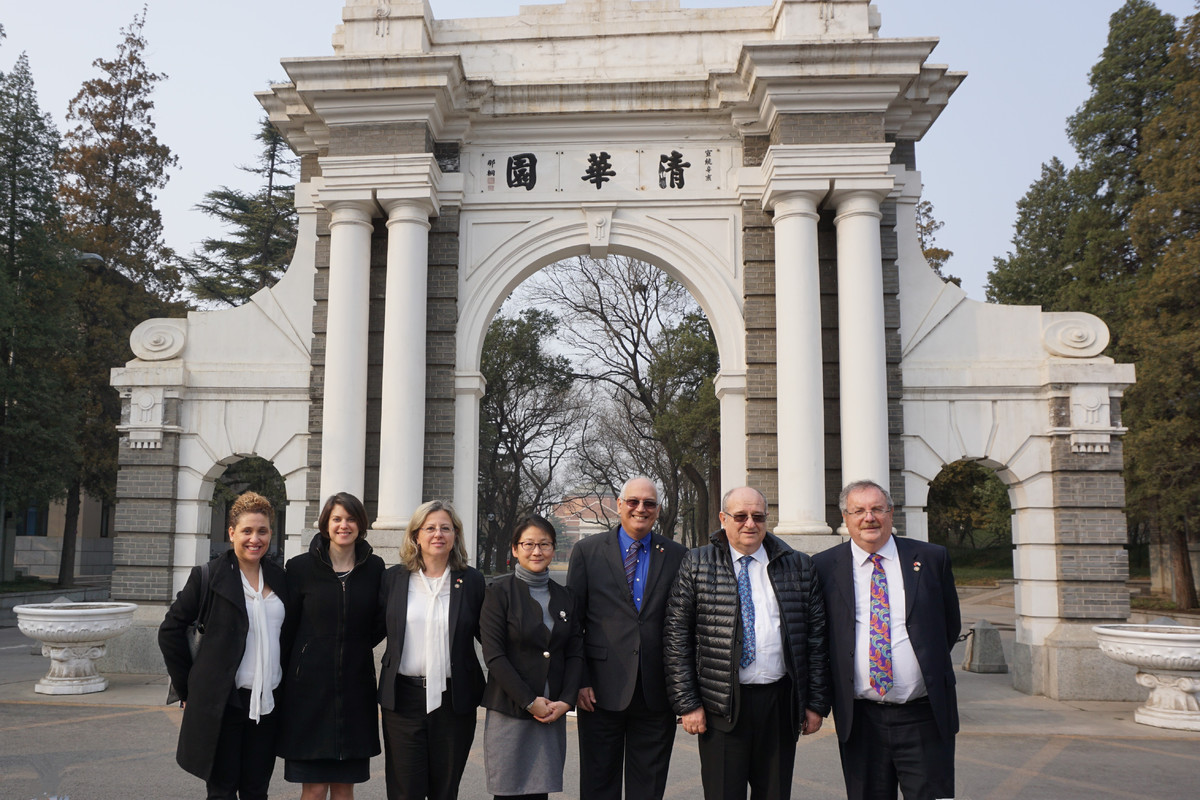 Israeli University's Delegation and Deputy General Manager of XIN Center Li Yife
Prof Shi introduced the history of Tsinghua University and explained the university's current efforts to train students to acquire a global vision and innovative spirit. Shi said that the Chinese and Jewish nations have a long and rich history of cultural exchanges. Tsinghua University attaches great importance to exchanges and cooperation with Israeli universities and seeks closer cooperation in the future with Israeli partners.
Prof. Peretz Lavie congratulated Tsinghua University on its achievements in academic curriculum construction and international development, and introduced the Israel Institute of Technology to promote university initiatives to further cooperation with China. President of Bar-Ilan University, Prof. Daniel Hershkowitz, mentioned that students of different cultural backgrounds in China and Israel could learn from each other and draw strength and knowledge from one another. Vice President of Ben Gurion University Prof., Steven Rosen, said that Israel has been promoting innovator training and that there is great potential for both sides to cooperate in developing incubators.
Both sides expressed the will to further enhance communication between teachers and students, promoting joint training and research projects.
Betty Xi, Bar Ilan representative in China.
Orly Fromer, Director of Asia Affairs, Tel Aviv University.
Keren Karp, Acting Manager of the Israel-Asia Academic Cooperation, Council for Higher Education.
Noa Peleg, Project Manager of the Israeli embassy in China.
Han Xue, Project Manager of the Israeli embassy in China.
Representatives from the Tsinghua Office of International Cooperation and Exchange, the XIN Center, and Tsinghua University attended the meeting.
The XIN Center also invited delegations to attend the Forum of the Presidents of China-Israel Institutions of Higher Education in the 2nd half of 2017 to conduct exchange with Chinese universities including Tsinghua University and representatives of government and industry. The presidents of the three Israeli universities expressed their wish to attend, and express their opinions regarding the time and content of the Forum.