As an infectious disease physician, Dr. Rongmeng Jiang, has been actively involved in the prevention and treatment of Covid-19 on the front line, city of Wuhan, since Jan 9, 2020. Through XIN's coordination, Dr. Jiang shared his experiences and observations during the meeting discussion with Dr. Roimi's team from Rambam Health Care Campus, Haifa, Israel. As suggested by Dr. Jiang (Ref 1), in the absence of effective medicines and vaccines, the key is to break the chain of infection.
Diagnosis, Treatment, and Discharge
Diagnostic Criteria
(1) Fever, (2) CT scan, (3) Covid-19 nucleic acid test.
In addition to the Covid-19 nucleic acid test, antibody test has been used as a supplemental method, and help to identify the people with mild or no symptoms.
The National Guidance for Covid-19 (Ref. 2) has been released and updated since the outbreak, and provides more detailed descriptions.
Evaluation Criteria of Progression to Severe Condition
The progression from the onset of ill (with symptoms of fever, cough, etc.) to a critical condition normally takes 7 days. The warning signs are as follows:
(1) Respiratory rate increasing (>25 per min); (2) Lung imaging indicating multilobular lesions or progression of lesions over 50% within 48 hours; (3) The absolute count of Lymphocyte is reduced significantly; (4) CRP level higher than 100.
Please note that such criteria vary among different practitioners (Ref 3).
Treatment of critically ill patients
The most effective way is mechanical ventilation. Once the blood oxygen saturation is less than 93%, non-invasive ventilation is suggested. If there is no significant improvement, tracheal intubation is suggested. Experiences show that the mortality rate can be reduced from 80% to 40% with intubation performed within 24 hours compared to three days if there is no improvement by using non-invasive ventilation.
So far there are no effective medicines available especially for critically ill patients. There are 10,000 recovered patients in Wuhan donated their bloods, which have been used to treat the critically ill patients. Preliminary results are promising, though clinical trials have not been completed yet.
One question raised by Dr. Roimi regarding the use of Steroid, Dr. Jiang mentioned that the use of steroid should be carefully examined. If try to use it, 1-1.5 mg/kg body weight of steroid was suggested for no more than 3-5 days.
Screening Criteria
(1) Close contacts with confirmed patients; (2) Regular non-coronavirus patients need to take tests before being hospitalized; (3) Personnel from group gathering places, such as Aging Care Centers, prisons, etc.
Criteria of Discharge
(1) Temperature maintain normal for 3 days; (2) No need for oxygen supply; (3) CT scan shows significant improvement; (4) Test negative twice with a 24-hour interval.
Statistic sum of Covid-19 patients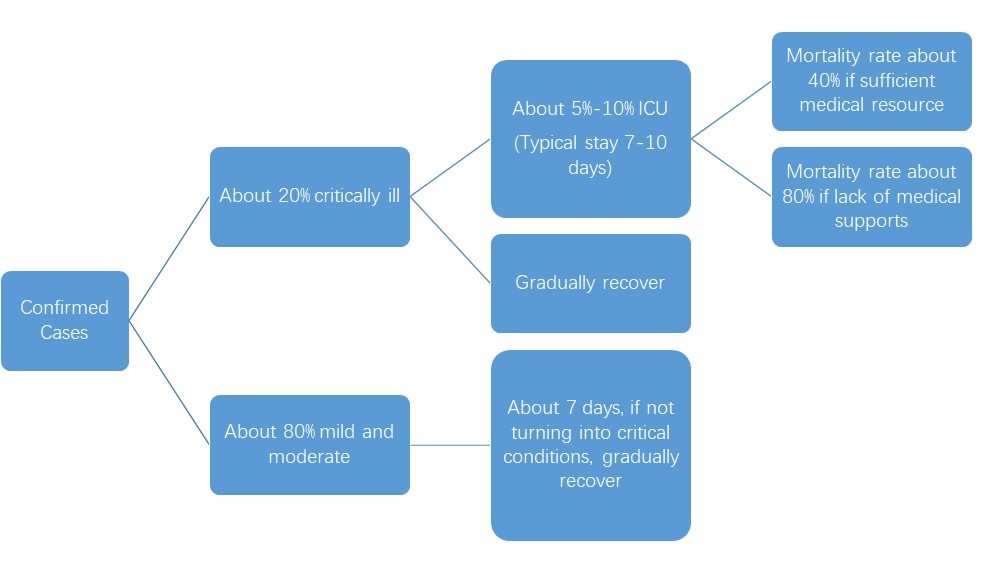 Medical Resource Coordination
Professionals
Treating critically ill patients with Covid-19 requires twice as many regular ICU-care professionals. One main reason is because that many hospital areas are not designed for handling respiratory-transmitted infectious diseases and medical professionals have to wear full protection gears all the time, which normally last 4-5 hours compared regular ICU 8-hour shift. There have been 40,000 medical professionals from other provinces sent to Wuhan during the outbreak, among whom there are 15,000 ICU specialists. All medical professionals need to get prevention training of infectious diseases before treating patients with Covid-19.
Facilities
For critically ill patients: Increase the number of the hospitals that accept Covid-19 patients from original 7 to the peak 60; Build two new hospitals specialized to treat infectious disease: Huoshenshan Hospital and Leishenshan Hospital with total of 2,000+ beds capacity.
For mild and moderate patients: Convert 10+ large stadiums, exhibition centers into Fangcang Shelter Hospitals with a total of 13,000 beds capacity (Ref 4).
For suspected cases: Designate hotels, dorms as isolation places following "single room per person" rule unless minors requiring adults' supervision.
Municipal Level Control Measures
(Measures are subject to change per development status)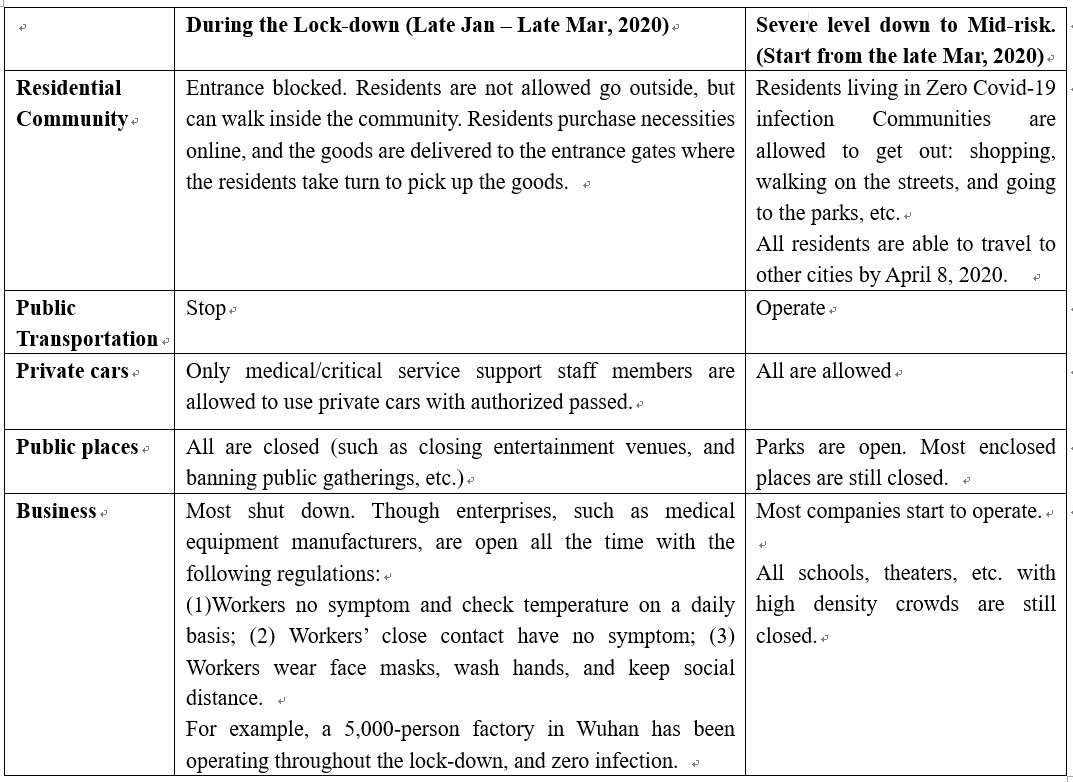 Please note that the newly published paper on Science Magazine (Ref 5) on March 31, 2020 studied the spread and control of Covid-19 using a unique data set including case reports, human movement and public health interventions. It was found that:
The Wuhan shutdown was associated with the delayed arrival of Covid-19 in other cities by 2.91 (95%CI: 2.54-3.29) days.
Cities that implemented control measures preemptively reported fewer cases, on average, in the first week of their outbreaks (13.0;7.1-18.8) compared with cities that started control later (20.6; 14.5-26.8).
Suspending intra-city public transport, closing entertainment venues and banning public gatherings were associated with reductions in case incidence.

As a clinical expert, Dr. Jiang has provided on-site guidance on medical treatment of major and sudden infectious diseases such as new coronavirus pneumonia, avian influenza, pneumonic plague, Ebola and SARS in China, Sierra Leone, Madagascar and many other places. Dr. Jiang has participated in the development of National diagnostic standards and prevention programs of the National Health Commission (Former Ministry of Health), such as Covid-19, influenza, Middle East respiratory syndrome (MERS), and Ebola virus disease (Ebola), etc.